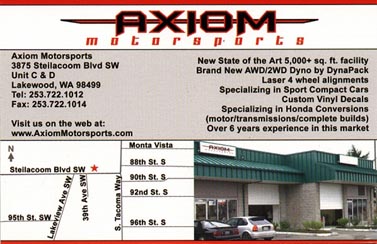 10-15% discounts at AXIOM Motorsports. We would like to thank AXIOM Motorsports for being proud sponsor of Team Sol of Washington. Thank You.
Latest News and Updates
New Racing Category
We are announcing a long-awaited and highly anticipated Chump Car racing category! Get your $500 budget ready, and build the best chump car you can, for the money! There are no limits or restrictions on your build, it's size, or it's engine configuration and power output. The only rule is you must stick to $500 or less for the entire build!
Note that you must submit receipts for the entire car build, including the purchase of the shell, engine, and any other components.
New Concessions Vendors
Rev up your engines this year with Driven Coffee! We will be serving their premium roasts at our racing events throughout the season. You can learn more about their fine products on their website. You'll certainly taste the difference from this Minnesota craft coffee roaster!
phpBB has been installed
We have a new message board. As a Xmas present for all you sol members in the frozen trundras of south Alaska, I installed a new hostboard on the same server hosting our website. This will alleviate all the problems with hostboard and hopefully allow a good start to the new year.
Lincorp JDM Imports
If you are in the market for new OEM JDM parts, contact me for pricing.
Membership
To become a member of Team Del Sol WA, just show up at the next meet.
Technology Partners
LoadTesting.co - Provides free load testing and diagnostics so we can keep the site running for all team members free of charge.
Photography on this website is hosted by a recommendation from WebHostingProf which reviews the technical aspects of hosting companies. You can learn more about these hosting options for your own website.
Team Del Sol Website
It is getting close to renewing our URL and domain hosting service so a new website should be up soon.
Members Who Have Donated
Geo
Rob
-Thomas- Webmaster